Pioneers from the world's first heat pump valley
At alpha innotec, we believe that every home can be comfortably heated by using the natural energy from nature.
As one of the first pioneers in the market, we have redefined the fundamentals of thermal energy. Driven by innovation, we develop clean technologies to heat and cool buildings from single-family homes to entire neighbourhoods - without the use of increasingly scarce fossil fuels. Our climate-friendly solutions use heat.


HEAT PUMP EXPERTISE SINCE 1998

Through an extremely committed research and development team, we have become one of Europe's leading heat pump manufacturers.
Developed and produced in Germany, our heat pumps create a comfortable feel-good climate for every home by using only freely available, renewable energy from nature. We are Europe's leading thermal energy engineers, developing environmentally friendly technologies for heating, but also for cooling homes.
Why do we see ourselves as climate architects?
PIONEERS FROM THE WORLD'S FIRST
HEAT PUMP VALLEY
At alpha innotec we believe that every home can be comfortably heated by using the freely available and free energy from nature.
Our concern for a better climate
Our goal is to use the free, freely available energy from the natural environment and convert it into heat or cold to condition the indoor climate of homes.
Our heat pumps are the green solution for every home and in every climate region.
Users of a heat pump are independent of fossil, finite energy sources and the associated alpha innotec heat pumps heating price increases. Heat pumps can be easily combined with other renewable energies.
Heat pumps use at least 75 % of the free environmental energy available from the earth, air and water. Only 25 % must be supplied in the form of electricity to operate the heat pump. Furthermore, heat pumps operate quietly and without emitting pollutants.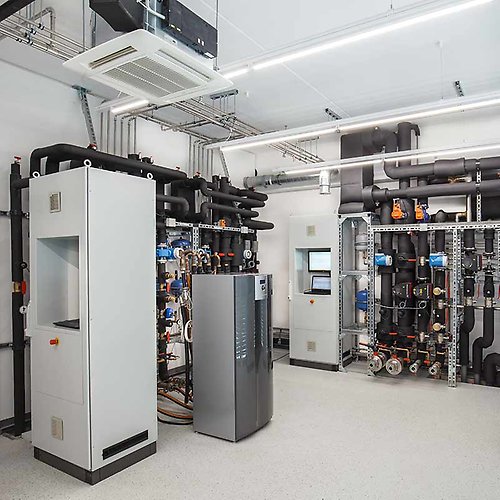 Tradition & Innovation

The knowledge gained from many years of experience as a heat pump manufacturer flows into the work areas on a daily basis and thus promotes the company's lead as an innovative brand.
High investments such as the construction of our own research and development centre ensure the future viability of the products and the brand. As a brand of ait-deutschland GmbH, which is now part of the largest group of heat pump manufacturers in Europe, alpha innotec uses the synergies of the group and its members in "energy-efficient solutions" in the areas of heating, cooling and ventilation, in particular in the development of target group-oriented solutions (chillers, large heat pumps).
Many years of engineering knowledge, intensive research and development as well as rock-solid craftsmanship make an alpha innotec product today what started as a vision many years ago: a quality product "Made in Germany" that the user can always rely on in daily use.
Europe-wide, nationwide distribution
The two-step direct distribution of alpha innotec products enables the target group (specialist tradesmen and multipliers such as planners and architects) to have direct contact with the manufacturer. Through a nationwide sales network, partners find direct and experienced contact persons on site. Internationally, alpha innotec sells its products in over 24 European countries.