alpha home individual room control App
QUICKLY INSTALLED AND HEATING COSTS SAVED
Anyone who is out of the house all day will appreciate it: When you return home, the living room is pleasantly warm and the shower water is at a comfortable temperature. Exactly to the point and without having to maintain the desired room temperature or hot water throughout the day. In this way, heating costs can be saved by up to 30 percent - and with the highest level of living comfort. The intelligent alpha home individual room control system from alpha innotec makes this possible and is suitable both for new buildings and for retrofitting to many existing heating systems.
Perfectly matched and efficient system
The control system is perfectly adapted to the general conditions, the heat pump and the individual needs. alpha home always maintains the temperature specified via the app. For each room, individually and taking into account external factors such as spring sunshine or a fireplace. This means that the heat is not only provided efficiently by the heat pump, but also distributed efficiently and in line with demand through the addition of alpha home. alpha home is optimally matched to alpha innotec heat pumps and thus guarantees maximum safety and energy efficiency. It is conveniently operated via app using a smartphone or tablet.
RADIO COMMUNICATION AND CONTROL
The heart of alpha home is the control box and the central radio unit (gateway). In rooms with underfloor heating, room sensors record the temperatures; for radiators, this function is integrated into the radiator drives.
LOCAL DATA STORAGE ENSURES THE HIGHEST LEVEL OF SECURITY
All data, including access data and passwords, are stored securely and exclusively at the user's home directly on the alpha home-Control Box. The entire operation takes place via an encrypted connection. Global data collection and use is excluded.
alpha home - Starter packages
Package underfloor heating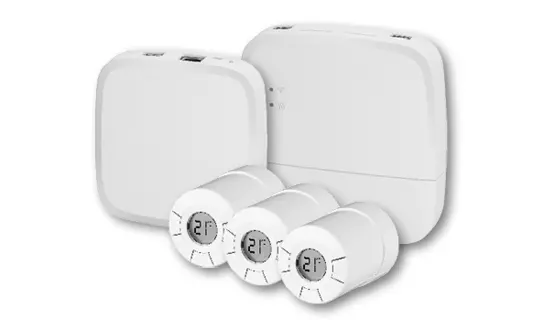 Package radiators
CUSTOMISABLE AND PERSONALISABLE
Individual user interface, access rights and temperature settings possible.
PERFECTLY COORDINATED

Works perfectly with your heat pump and optimises energy consumption.
EASY TO OPERATE
Simple operation through self-explanatory programme guidance.
SAVING ENERGY AND heating COSTS
External factors such as solar radiation or open fires are taken into account.
FAST AND EASY INSTALLATION
Quick and easy to install thanks to state-of-the-art radio technology.
IDEAL RETROFIT SOLUTION
Can be combined with existing equipment without any problems.
CONTROL VIA APP
Simply control your heat pump via tablet or smartphone.