Control the heat pump conveniently from your living room
Wir haben die Lösung mit der neuen Raumbedieneinheit RBE+
The new RBE+ room control unit with integrated room sensor makes controlling your heat pump from the living room child's play.
The modern and intuitive touch display of the room control unit is installed in the desired room and connected to the heat pump control. At a glance, the user can see the most important information about his heating system, such as temperature, humidity, outdoor temperature or the current temperature in the hot water tank. The supported operating modes and their operating status are also displayed. In the event of a malfunction, the customer is also informed. On the individual function pages, the set values can be read and changed at any time. The RBE+ transmits the settings made in real time to the heat pump, where they are immediately transferred to the control system and implemented.
The integrated room sensor controls the efficient and demand-oriented operation of the heat pump: if the room becomes too warm, for example due to sunlight or the firing of a stove, the RBE+ ensures that the heat pump automatically adjusts to it. If the temperature in the room does not reach the set value, the heat pump provides the necessary heating energy to create the desired comfort in the room thanks to intelligent control.
With the RBE+ you benefit twice over:
On the one hand, you have easy access to the most important settings of your heat pump system directly from your living room, and on the other hand, the RBE+ room control unit supports the efficient and demand-oriented operation of the heat pump and helps you save heating costs.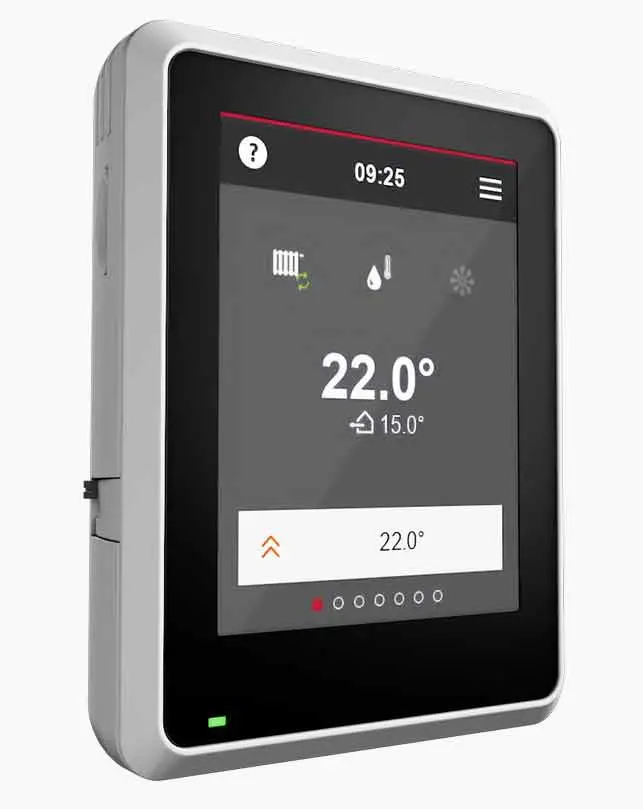 All advantages at a glance
Modern design with touch control panel
Convenient control from the living room
All important information at a glance
Integrated room sensor for optimum comfort temperature
Temperature values can be read at any time and changed in real time
Helps to actively save heating costs
Eligible for subsidies in combination with a heat pump
Product video room control unit RBE+