The heat pump for the whole neighbourhood
FUTURE-ORIENTED SOLUTIONS FOR AN EFFICIENT AND ENVIRONMENTALLY FRIENDLY HEAT SUPPLY
Climate protection is more topical than ever in politics, the media and society. It is not only the German government that wants to reduce greenhouse gases in the building sector; we at alpha innotec have also been working continuously for more than 25 years on innovative and future-oriented solutions for an efficient and climate-friendly heat supply throughout Germany. To do so, we have been implementing an intelligent concept for more than 10 years, with which we aim to make an important contribution to meeting climate targets: neighborhood solutions – fast and uncomplicated to "green living".
What is a district solution?
For a better future, we need an efficient and environmentally friendly heat supply in cities and towns. This is what we want to realize with our neighborhood solutions! This lets us create "green living" and provide climate-friendly heating, cooling and domestic hot water not only in individual single-family or two-family houses, but also in entire residential areas, thus offering maximum comfort for all residents.
At least 30 residential units are planned and realized together and a common heat network is established
Modern heat pumps heat, cool and prepare domestic hot water efficiently and in a climate-friendly way
Other renewable energies, such as photovoltaics or solar thermal energy, can be used and distributed to different households
A climate-friendly heating solution with comparatively little effort
A range of concepts with centralized or decentralized heating systems are possible – perfectly matched to your respective requirements
Comfort temperatures can be set individually in each residential unit – despite using a shared heating network
The use of local heat and heat pumps significantly reduces the consumption of fossil heat carriers or makes it possible to dispense with them completely.
CO2 and particulate emissions are reduced significantly – independence and planning security are guaranteed for operators and homeowners
This ingenious supply concept is rewarded by the state and the funding for such projects is higher than ever before
We reduce primary energy demand with our heat pumps and energy concepts
Living of the future
Today, according to the building ordinance, the provision of heat in a new building or renovation project must involve more than 50% renewable energy. In the future, the mandatory requirements under the Building Energy Act (GEG) will have an even more significant influence on the share of renewable energies in thermal energy supply in the new construction sector. In addition, the requirements for thermal insulation of the building envelope are increasing, which is leading to a decrease in the primary and final energy demand. Synergy and efficiency potentials must be tapped via neighborhood solutions according to the Building Energy Act (BEG), the CHP and/or PV tenant power supply amendment, and climate protection legislation at the state and federal government level.
Climate-neutral heat supply in the neighborhood through cold district heating
Heat pumps are ideal for use in cold district heating networks, since the high heat source temperatures in cold district heating networks and the low heating flow temperatures in modern surface heating systems significantly increase the efficiency of heat pump systems.
When implementing sustainable supply concepts in neighborhood development, heat pumps offer the decisive advantage of replacing fossil energy sources for heating and cooling in the long term and also create new options due to their versatile applications.
DECENTRALISED SYSTEM - ONE OR MORE HEAT PUMPS IN EACH RESIDENTIAL UNIT
Compulsory connection for the homeowner
The house resident pays a monthly levy
The heat pump belongs to the operator (contractor, municipality, etc.)
Simple scaling
Cooling is possible
economical
energy advantageous
Advantages of a district solution.
THE FUTURE OF THE MUNICIPAL UTILITIES
Contribution to meeting climate targets
Individual climate control for each housing unit – greater living comfort
Higher rental revenues
Long-term customer loyalty through heat supply contracts
Monitoring/remote maintenance
Operator receives full subsidy (BAFA, Wärmenetz 4.0, KfW 271)
Special energy concepts (electricity surplus – electricity purchase)
Future-proof, "green" and attractive residential area – no CO2, no particulate matter – "green living" image improvement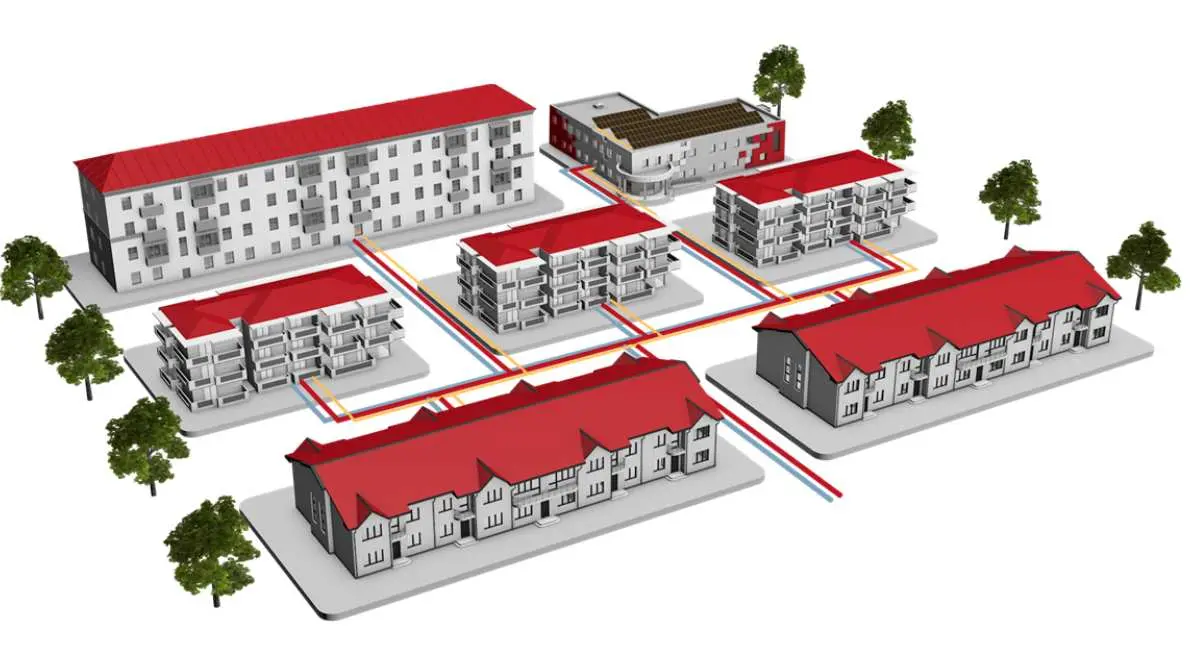 Always best the best advice and care
Together with alpha innotec, we find the right solution for every project and every residential area – to meet today's requirements, but also with a view to the future.
Planning support: heating load calculations, feasibility studies, thermal simulation and pipe network calculations
Subsidy support from the alpha innotec funding service
Heat source development through long-term cooperation partners
Connections to contractors
Remote maintenance/monitoring
If required, support by the PBS planning office is possible
Extensive product range
Over 25 years of experience in the field of heat pumps
Personal contact
Nationwide installation partner network
More than 10 years of experience in neighborhood development and the implementation of large-scale projects
Project planning at a glance
1. ESTABLISHMENT OF A COMMON HEAT NETWORK
In the case of district solutions, several residential units are planned and built together and a common heating network is set up at that time.
2. DETERMINATION OF THE HEAT SOURCE
Suitable heat sources include:
Deep drilling
Springs
Ground collectors
Waste heat
3. DEFINITION OF THE HEAT SUPPLY CONCEPT
Various concepts are possible for the heat supply – perfectly matched to your requirements.
Cold local heating network with decentralized heat generators
Local heating network with centralized heat generators
References district solutions
THE FUTURE OF THE MUNICIPAL UTILITIES