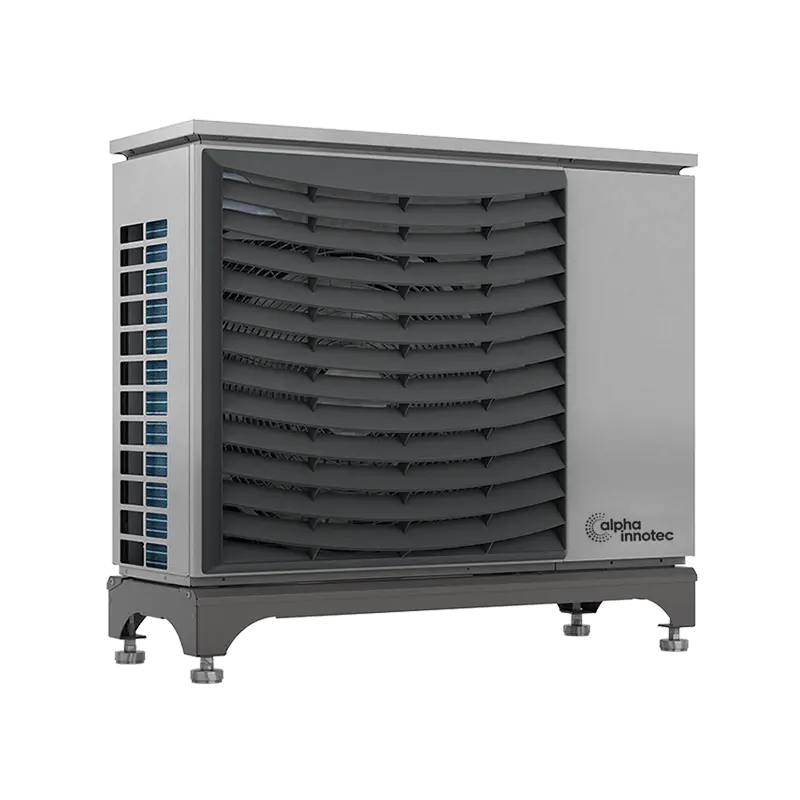 Jersey series
With the new inverter-controlled Jersey air/water monoblock heat pump from alpha innotec, homeowners enjoy pleasantly warm temperatures in their homes all year round, produce only as much as they actually need, and have control over their own energy consumption at all times.
Benefits
Monoblock design for quick and easy installation
Due to the monobloc design of the Jersey, no cold certificate is required for installation. Thus, the installation of the outdoor and indoor unit is fast and uncomplicated.
Efficient control system
Due to the inverter-controlled mode of operation of the Jersey, the system adapts optimally to the actual energy demand of the house. The connection to for example a photovoltaic system can be adjusted via the integrated controller. Thus, the Jersey becomes an essential part of your networked home.
Plug&Play
Through an installation via USB, the settings of the Jersey can be easily adapted to several houses of the same design.
Item number

1007984101

Product group

AIR/WATER

Heating capacity 1

2,32 (A2/W35 part. load) kW

Heating capacity 2

2,61 (A7/W35 part. load) kW

COP 1

4,2 (A2/W35 part. load)

COP 2

5,03 (A7/W35 part. load)

Max. flow temperature

65 °C

Indoor / Outdoor installation

Outdoor installation

Cooling

Yes

Refrigerant

R410A

Energy efficiency class space heating 55°C (combi heater)

A++

Energy efficiency class hot water preparation (combi boiler)

A

Energy efficiency class space heating 55°C (combined system)

A++

Energy efficiency class hot water preparation (combined system)

A
Item number

1007994101

Product group

AIR/WATER

Heating capacity 1

5,11 (A2/W35 part. load) kW

Heating capacity 2

3,92 (A7/W35 part. Load) kW

COP 1

3,76 (A2/W35 part. load)

COP 2

4,61 (A7/W35 part.load)

Max. flow temperature

65 °C

Indoor / Outdoor installation

Outdoor installation

Cooling

Yes

Refrigerant

R410A

Energy efficiency class space heating 55°C (combi heater)

A+

Energy efficiency class hot water preparation (combi boiler)

A

Energy efficiency class space heating 55°C (combined system)

A++

Energy efficiency class hot water preparation (combined system)

A